So the Top Chef season ended...if you didn't see the finale, and you plan to, stop reading. Otherwise, you know, or don't care, that Hosea won. The finale was pretty anticlimactic; it might of been more exciting had Fabio not been eliminated in the second to last episode.
I admitted my man-crush on Fabio in atleast one previous post, but I'm definitely not alone; he was voted fan-favorite. How could he not be with his funny Italian accent and his constant quips? I bring this up post-season because he may not have won "Top Chef" but I think he'll do just fine after his exposure on the show.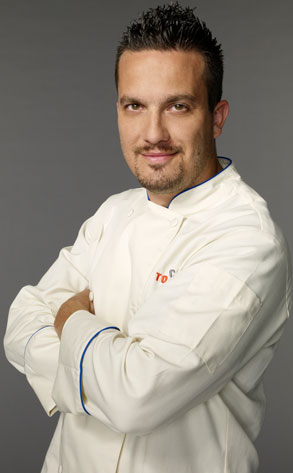 In addition to Bravo offering the "I <3 Fabio" t-shirt
on their site
, it seems that Fabio's been quite busy since the end of the show:
Ducati (Italian motorbikes): image licensing
Dr. Oetker Frozen Pizza: spokesperson
Pellegrino: "huge deal"
Food & Wine/Gail Simmons: "The Sparkling Life" national campaign
Deals in talks: Red Bull and Don Q Rum; many talk shows
Possible TV Show?
2 New Restaurant Openings in California
14-City Book Tour starting next month for new book: "Cafe Firenze"
2nd Book in the works
Website launch: www.kidshealthcafe.com
Damn! In Fabio's words, "How 'bout that? Not bad at all!"
For those who are not Top Chef junkies, here is a little video to introduce you to this character: