The 81st Annual Academy Awards show is on tonight...the ultimate awards show. Get an Oscar and get respect for life. As a big fan of film, I always enjoy watching the Oscars but often times, I've only seen one or two of the films. This year, I've seen many of the nominations and intend to watch the ones that I've missed. It's been another great year in film and the nominees reflect that.
I wanted to claim my predictions for tonight and I should note that I'm making these predictions before reading those of anyone else (including that psychic)...
Actor in a Leading Role
: Sean Penn. I've seen all of these roles and they were all excellent but I think Sean Penn and Frank Langella had the most difficult roles. I really loved The Wrestler and Mickey Rourke definitely made the movie, but I don't really see him winning tonight. Richard Jenkins was also great in The Visitor but I don't think his role was as demanding as Penn or Langella. Penn deserves this one.
Actor in a Supporting Role:
I haven't seen Revolutionary Road but I think most people expect Heath Ledger to win this one. It's hard to imagine what the circumstances would be with the release of The Dark Knight and the subsequent nomination had Ledger not unfortunately died. Personally, I think it would not have been
as
hyped, but noone can deny that Heath Ledger was amazing as The Joker. If he had not passed away, I think Philip Seymour Hoffman might take it, but Ledger should get this one.
Actress in a Leading Role:
I have not seen Changeling or Frozen River yet, so I can not judge Angelina Jolie or Melissa Leo. From the limited hype that I have taken in, however, it seems that Kate Winslet is favored for this win. From seeing her versus Anne Hathaway and Meryl Streep, I definitely do not think Winslet is a hands down win. I think Streep and Hathaway had more complex roles. Streep may already have a couple wins under her belt but this is probably her most warranted nomination in years. Winslet might take it due to politics but I'm going to go out on a limb and pick Streep.
Actress in a Supporting Role
: I think this will come down to either Amy Adams or Penelope Cruz. My expectations were definitely not met in The Curious Case of Benjamin Button. Viola Davis in Doubt had a powerful performance, but she only appeared in about 10 minutes of the film. And Marisa Tomei has her third nomination but I really don't think she's going to take this one for being a stripper. I think Penelope Cruz will take this one.
Animated Feature Film
: All 3 were very entertaining, but this one is going to Wall-E without a doubt.
Best Director
: I think Gus Van Sant should probably take this one for Milk. He was nominated before for Good Will Hunting against freakin' James Cameron for Titanic. I wouldn't mind seeing Danny Boyle take this for Slumdog Millionaire, but I think it will go to Gus Van Sant.
Makeup
: The one thing that you have to hand to The Curious Case of Benjamin Button is the hype surrounding how the hell they made Brad Pitt into a short old man, which is why it should win for both Makeup
and
Visual Effects.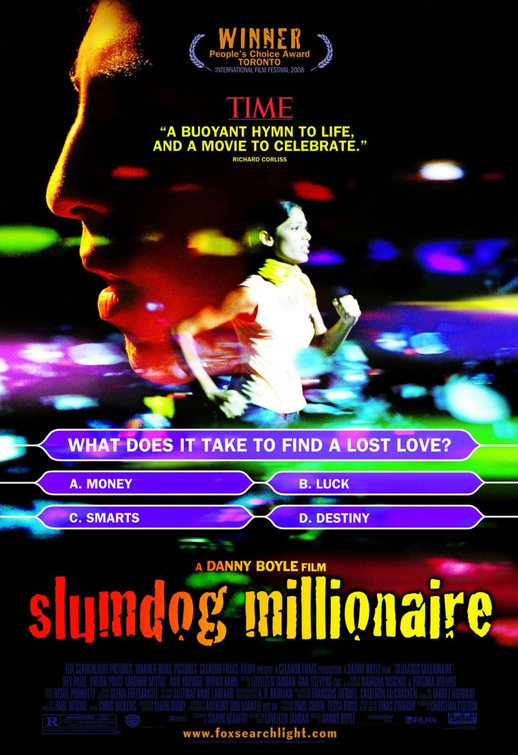 Best Picture
: If this doesn't go to Slumdog Millionaire, I'll be disappointed. I saw all of these nominees and Slumdog Millionaire was by far the most entertaining film from start to finish, gripping you in from the start and not letting you go until you find out what happens at the very end.
I'll leave out the other categories but am very interested in seeing all of the awards tonight. For those who have not seen any of the nominees, I strongly suggest seeing as many of them as you can.