Well, Hil and I literally just finished carving a jack-o-lantern (and we just poured ourselves a Southern Tier Pumking Ale too!):
You can probably guess which one is mine and which one is Hilary's.
I'm pretty proud of ours, of course, but I'd also like to post some very creative, awesome ones too:
Cannibalism is cool (when it's with pumpkins).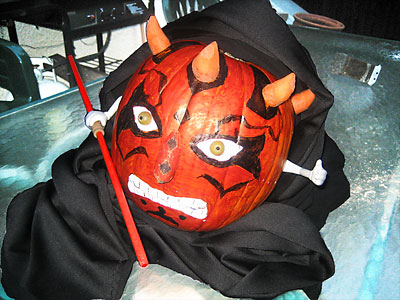 I think this is my nephew Connor's favorite Star Wars character so I had to put it up just for that.
This guy can kick Frosty the Snowman's ass any day of the week.
(Suddenly our pumpkins don't look so amazing) And finally, the Keene Pumpkin Festival in New Hampshire, which competes with Boston every year for the Guinness World Record for "most jack-o-lanterns lit at the same time":